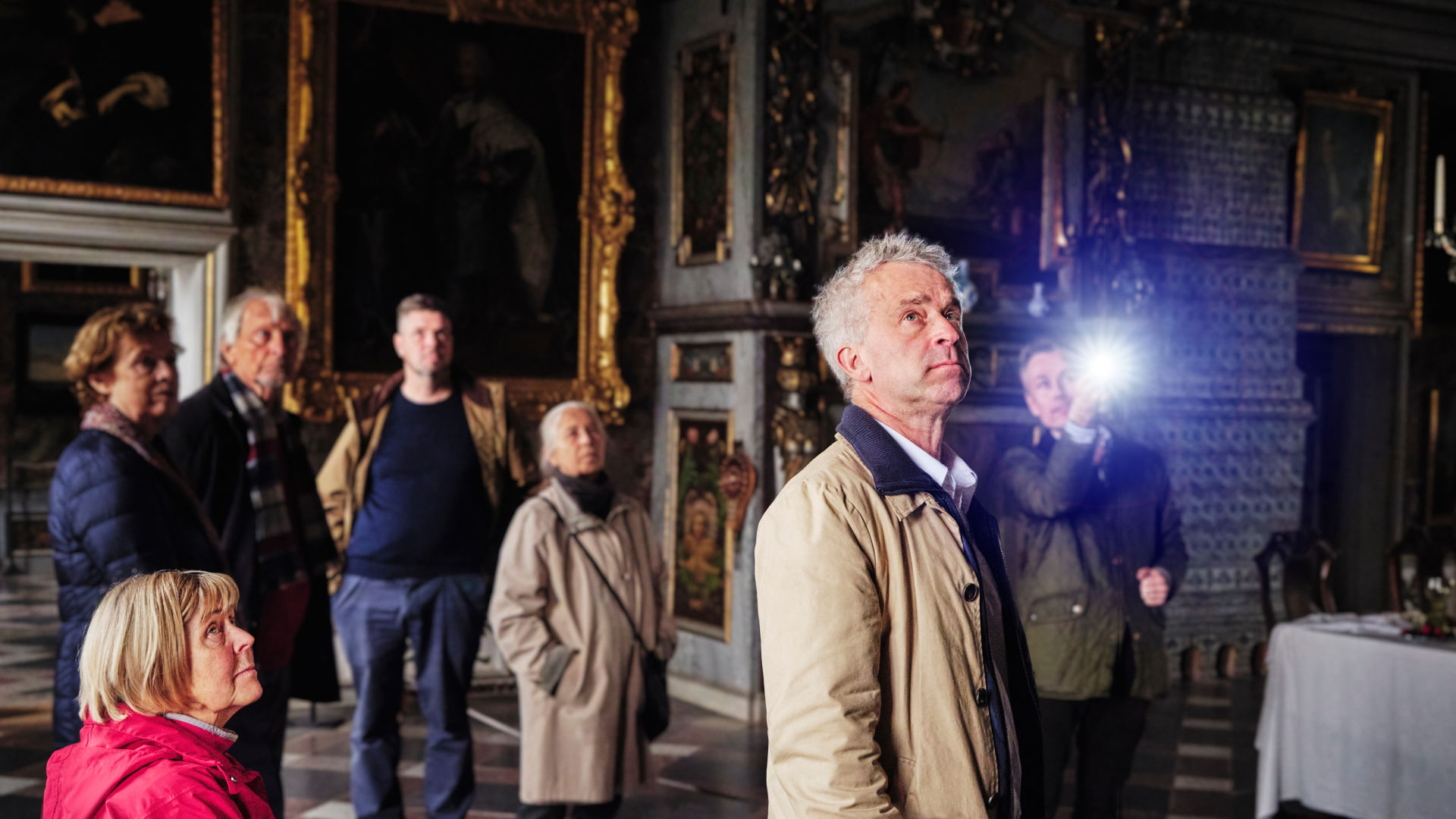 Guided tours and package for groups
A group of friends, a club get-together or a big family? Groups are welcome to book their own tour, day or evening, any time of year. We also offer a combined package with an excursion to Salsta Castle or Åberg Museum.
Special guided tours
We can offer special guided tours on a particular theme or tours to view a particular category of artefacts, such as textiles, books, weapons and armour, tools or furniture. Would you like to hear about the strange fates of the Wrangel, von Haugwitz, Brahe or Königsmarck families or have a special tour on the theme of the castle's animals? Please contact us if you have any questions or special requests or ideas for a visit to the castle and we can plan it with you!
Guided tours in other languages
Guided tours are available in Swedish and English. Guided tours in other languages can be arranged by special agreement. If you would like a tour in another language, it is also possible for someone in your group to interpret from Swedish or English during the tour.
Dates and times
Daytime on weekdays, up to 15 persons: SEK 2,500

Evenings (after 17.00) and weekends, up to 15 persons: SEK 3,500
Number of participants
The maximum number of people in a guided group is 15, but more than one group can have a guided tour of the castle at the same time. There is a maximum of 12 persons for special guided tours to the linen store, lathe room and in the library.
Practical information
Remember to arrive in good time if you want to visit the castle. To make sure you get to see all areas of the castle, we start at the time you have booked. The guide will meet you about ten minutes before the booked tour.
Dress warmly
Remember that the castle does not have lighting or heating. In the winter it is dark and cold. We recommend that you dress warmly.
Accessibility
There is a ramp at the ground floor entrance giving access to the shop, exhibition and café. There are no ramps or lifts in other parts of the castle. There are many staircases, and during the tour we will visit all four floors of the castle.
If you have special needs and cannot get around the museum, we offer a visit to the exhibition Dreams of Skokloster on the castle's ground floor. The exhibition displays the castle's best-known artefacts from four centuries.
If you have difficulty standing throughout the tour, you can borrow a folding chair at the entrance. It is possible to bring a wheeled walker or other mobility aid into the castle, but you must be able to carry your mobility aids yourself.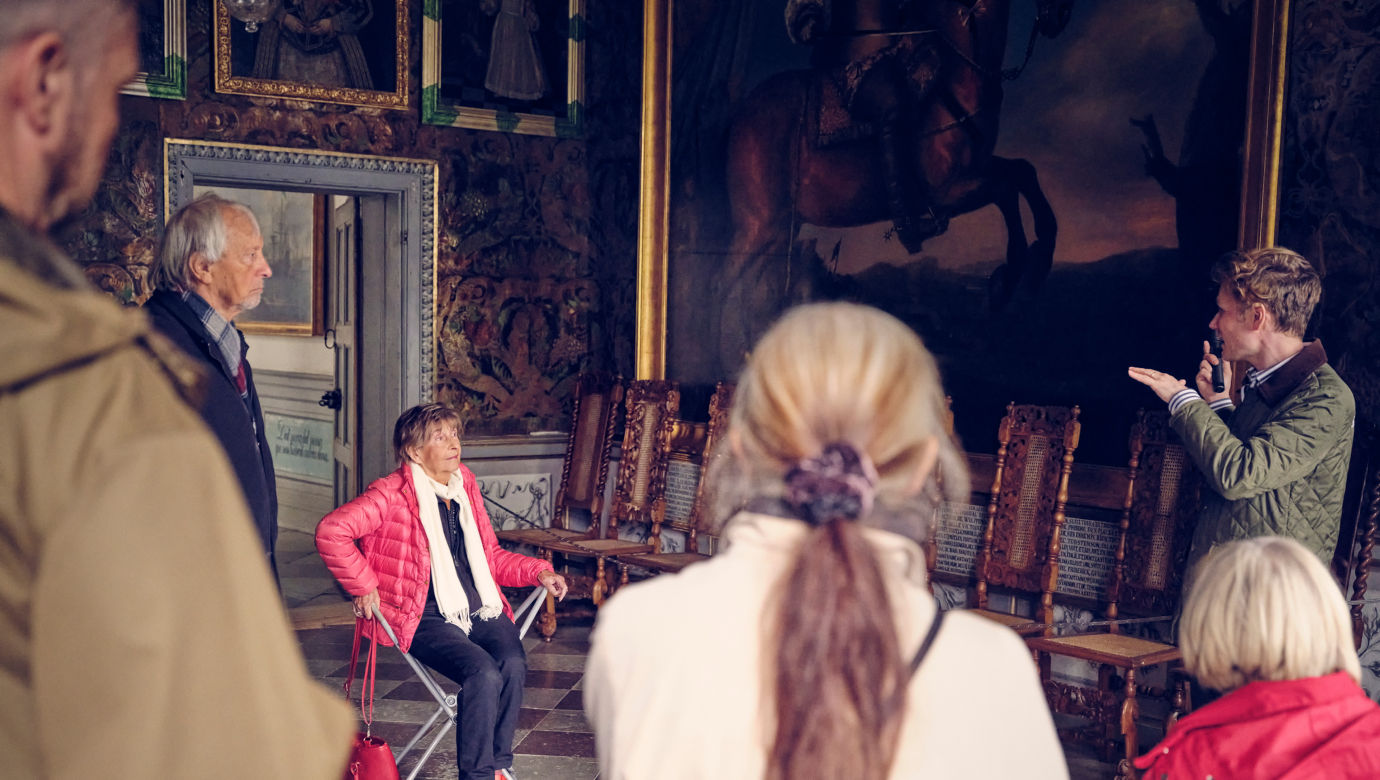 Companions and guide dogs
Companions are welcome to visit the castle free of charge. Guide dogs are also welcome.
Parking
Cars and buses should be parked in the large car park near the church and filling station. From the car park to the castle entrance there is a 300 metre walk on a gravel path. There are two disabled parking spaces next to the castle.
Strollers and prams
Strollers are not allowed in the museum, but you can leave them in the designated space at the entrance.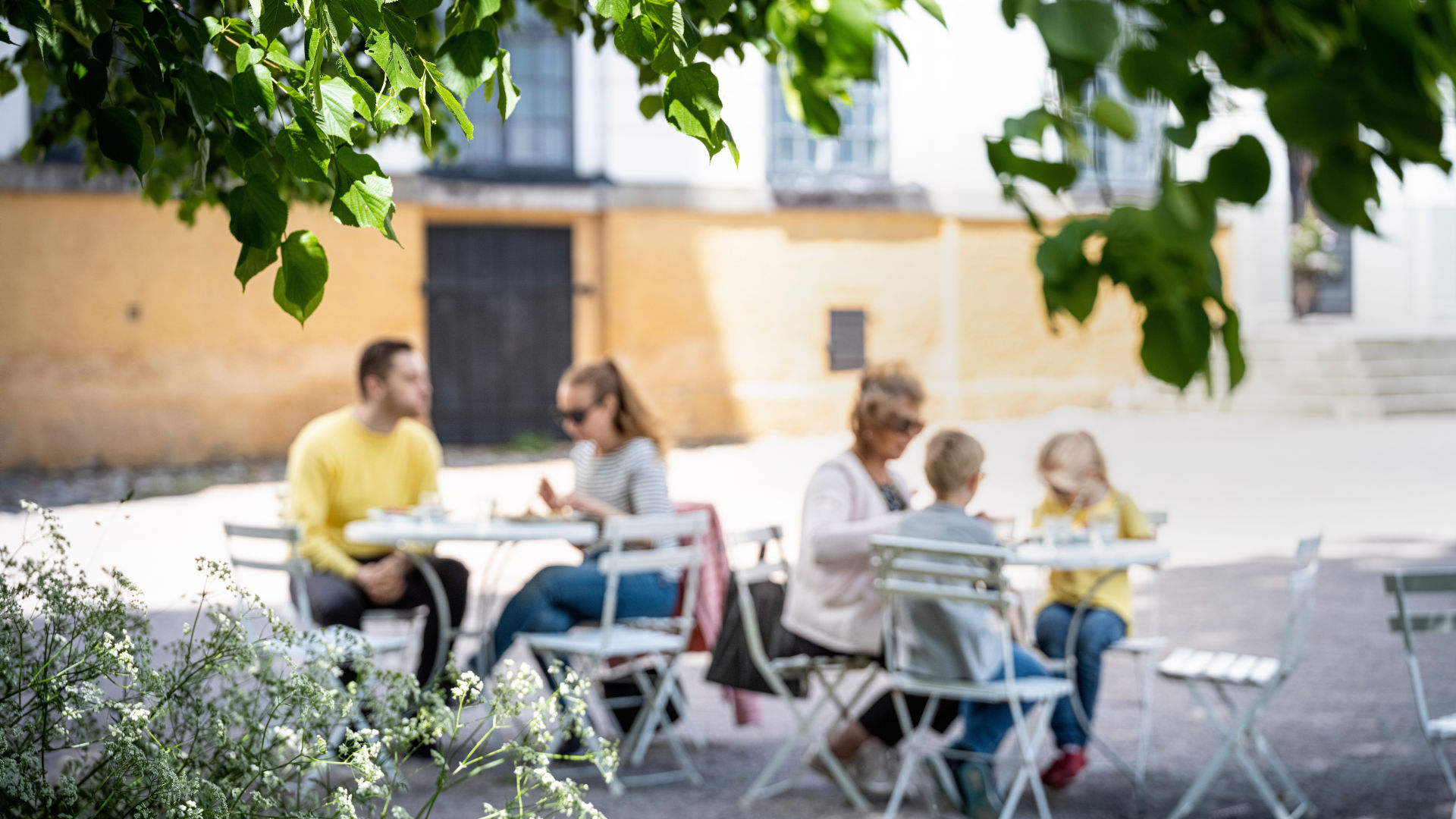 Packages for groups (a minimum of 15 persons)
Experience a full-day tour in the cultural settings of Uppland. You can combine a visit to us with lunch in the castle café. We also offer a combined package with an excursion to Salsta Castle or Åberg Museum.
Guided tour of the castle with lunch in the castle café
A Package for groups of at least 15 persons including guided tour of the castle. Lunch will then be served in the castle café.
Lunch offer
For lunch, we serve potato gratin and roast beef in a herb marinade, with beverage and coffee included. Beer and wine are available to buy. SEK 270 per person weekdays and SEK 354 per person weekends. Prices include VAT.
Coffee offer
Morning coffee with a cheese sandwich or afternoon coffee with a pastry. Price SEK 225 per person on weekdays and SEK 275 per person on weekends. Prices include VAT.
Send a booking request
You need to fill in everything marked with *.
Castle package with visit to Salsta Castle
Skokloster Castle and Salsta have shared a common history since the mid-18th century. Since 1756, Skokloster has held the Bielke armoury and Carl Gustaf Bielkes' library, which at one time was Sweden's largest private library. There is a large amount of art here that was originally at Salsta - including portraits of Nils Bielke's 12 horses.
To explain the common history of both castles, we offer the chance to see them both on the same excursion.
A day's excursion might look like this:
10.30 Guided tour of Salsta Castle

11.30 Lunch in the King's Hall, Salsta

12.30 Transfer by bus to Skokloster

14.00 Guided tour of Skokloster Castle

15.00 Afternoon coffee in the castle café
Book a package
This package should be booked via Salsta Castle at info@salsta-slott.se.
Castle package with visit to Åberg Museum
Here you have the opportunity to see Skokloster Castle's exciting collections. On this special guided tour, you can see many fabulous artefacts that are not normally on public display. Make sure you visit the museum shop as well.
Then you move on to Åberg Museum in Bålsta, where a guided tour is combined with lunch. On the guided tour, you will see original cartoons and cartoon-inspired art and Lasse's famous collection of Disney objects.
The package includes
Morning coffee

Guided tour of the furnished storeys prefer floors and armoury at Skokloster Castle

Lunch at Åberg Museum

Guided tour of Åberg Museum

Afternoon coffee
It is also possible to book a package with just the guided tours and lunch.
Book the package
This package should be booked via Åberg Museum by email carina@abergsmuseum.se or telephone: 08-411 00 40
You may also be interested in